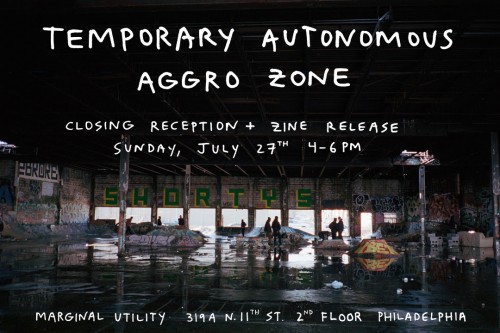 Closing reception 27 July 4-6pm
"I'll be doing a zine release at the closing reception for the show Temporary Autonomous Aggro Zone at Marginal Utility in Philadelphia. The exhibition pairs my most recent work from the Ironbound neighborhood of Newark, buy more about NJ with Rick Charnoski & Buddy Nichols' 1999 documentary film Fruit of the Vine.
The zine will be the last in a series I've been publishing annually on 4th of July for the past 10 years. Borderline Retarded #10 – THE DEATH ISSUE. If you love something, set it on fire.
If you missed the opening or want to grab a zine in person, I'd love to see ya there." -Phil Jackson
"Here's some press for the show…"
"The show speaks of tradition; of breaking tradition, rejecting tradition, and creating new traditions that represent a disregard for an old set of rules. This is a culture that has built its foundation upon abundant resources, the wreckage of modern life. It reclaims the process of making as opposed to consuming, and in this process it asserts self-sufficiency. In a landscape of failed consumer culture, it hearkens back to the primal, pre-market economy mentality of the foraging hunter-gatherer."
"Combine the pirate-utopian ideals of anarchist writer and poet Hakim Bey, the aesthetic of 1980s Transworld Skateboarding Magazine, and a pinch of collaboration, and you have the works of Phil Jackson, Rick Charnoski, and Coan Buddy Nichols. Like illustrations for Bey's 1991 essay Temporary Autonomous Zone, the photos and film on view at Marginal Utility convey the uprising, self-governance, utopia and anarchy Bey advocates with the love and enthusiasm of an insider."