Thursday, buy 20 October, treat 9-11pm 2011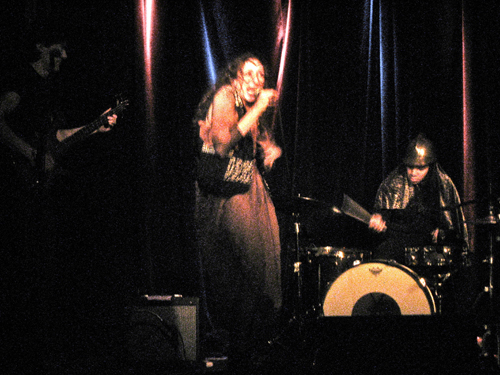 Three Artist led ensembles, drugs THANK YOU ROSEKIND, DREAM ZOO, and LITTLE BAND OF SAILORS will perform a one-night showcase of experimental music at the Marginal Utility Gallery.
Thank you Rosekind, In 2009, artist and musician Michael Bauer dreamed up a musical project based around the idea of gratitude, a concept that lead to the creation of the dreamy electro-pop group Thank You Rosekind, named, in part, for his mother. In an age where the musical spectrum ranges radically between overblown party anthems and lyrics bogged down by ennui, TYR's heavily layered and melodic music is infused with a rare, non-eye roll inducing enthusiasm you can dance to. Since adding vocalist Joel Chartkoff, TYR continues to thrive off of Bauer's thoughtful, and occasionally off-beat, ideals about art and music.
Dream Zoo is a transposition of a dream, an absurd spoof on Classical Lieder of the early 20th century. Composer and frontwoman Valerie Kuehne pioneers a genre best described as Avant Storytelling, wherein genre playfully and impressively breaks down. Rock, jazz, and folk… idioms are evoked and laced with conceptualized improvisation, fed with the energy of a… late night punk show. Dark and childish emotions are conjured. Ms. Kuehne's style has been compared to Harry Partch, PDQ Bach, Diamanda Galas, and The Buzzcocks, although she prefers to describe experience in general as uncategorizable. Joining Ms. Kuehne on this tour are Jeffrey Young on violin, Lucio Menegon on electric guitar, and Jason Anastasoff on upright bass.
Little Band of Sailors is the ensemble of theatrical rock collaborators orchestrated by sculptor Rachel Mason, whose lineup for this tour includes classically trained bass clarinetist Mara Meyer and punk drummer Vanessa Alvarez. Mason has been described as "Alice Cooper meets Carole King in another dimension" Mason's work has been championed by Josephine Foster, with whom she has toured in the U.S. and Europe. Her upcoming album Woman with a Suitcase will feature a cover image by the historic conceptual artist John Baldessari, who recently exhibited his retrospective at the LACMA and the Met Museum. The album will be released digitally and on 12″ vinyl in February 2012 on Shatter Your Leaves with production by Stu Watson.