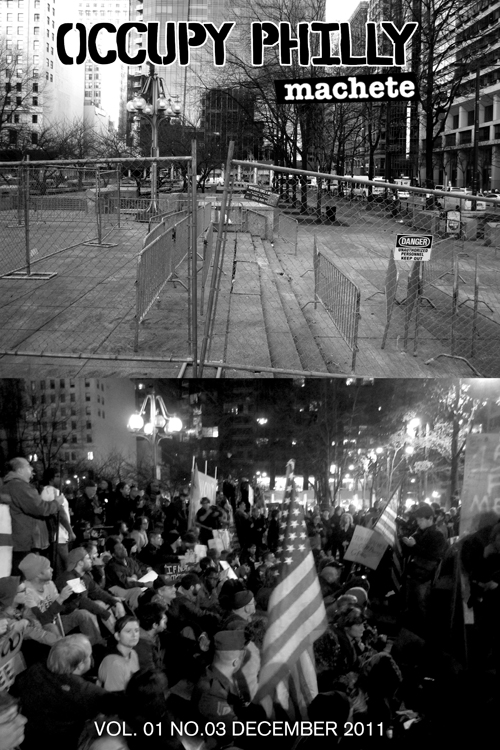 Download OCCUPY PHILLY – Machete 03 December 2011 (PDF)
SID ROTHSTEIN, Occupy Philly: Machete Issue 3/ JOHN SCHULTZ, Eviction and Occupation/ Occupy Everything: interview with BEN WEBSTER/ AARON KREIDER, Debunking the Rumors of an Occupy Philly Power Elite/ HOMAY KING, Antiphon: Notes on the People's Microphone/ MATT, To the "They Have No Message and/or They Haven"t Accomplished Anything" Crowd of Naysayers:/ LORI D. GINZBERG, Social Movements/ EDWARD SCHEXNAYDER, art project
King: Antiphon: Notes on the People's Microphone
Matt: To the "They Have No Message and/or They Haven't Accomplished Anything" Crowd of Naysayers:
Schultz: Eviction and Occupation
The Machete Group is an international consortium of artists and intellectuals based at Marginal Utility Gallery in Philadelphia. The Group runs the magazine Machete, offers seminars on current issues in the arts, and is invested in developing new collective forms of artistic and intellectual practice. Its members include Avi Alpert, David Dempewolf, Etienne Dolet, Ludwig Fischer, Alexi Kukuljevic, Holly Martins, Gabriel Rockhill, Theodore Tucker, and Yuka Yokoyama.