7 December – 20 January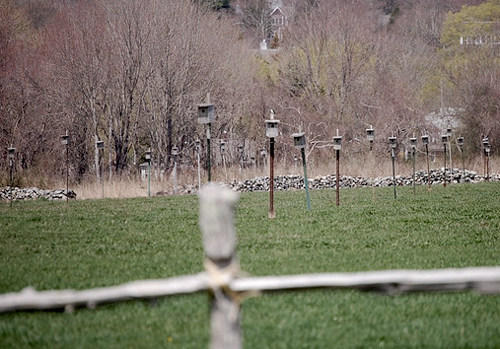 Opening reception Friday, 7 December 2012, from 6 – 11 pm
Marginal Utility is proud to present FOREVER WILD (NEST MACHINE),  an exhibition of a new project by the New York based artist DOUGLAS IRVING REPETTO.
Preemptive nostalgia for wilderness and creatures lost.
A run down workshop on a generation ship or a boutique factory making knick knacks for terraformed lands.
What will we fill our wild places with when wild things are gone?
"forever wild (nest machine)" is the first in a series of speculative machines that generate artifacts no longer produced by natural processes. It is an inefficient factory built from scraps and debris, making elaborate nests for forgotten creatures.
Douglas Irving Repetto is an artist and teacher. His work, including sculpture, installation, performance, recordings, and software is presented internationally. He is the founder of a number of art/community-oriented groups including dorkbot: people doing strange things with electricity, ArtBots: The Robot Talent Show, organism: making art with living systems, and the music-dsp mailing list and website. Douglas is Director of Research at the Columbia University Computer Music Center and lives in New York City with his wife, writer Amy Benson, and their young son Beals.
http://music.columbia.edu/~douglas/portfolio/index.shtml
(Image by Meaghan O'Neill)