1 April – 15 May 2022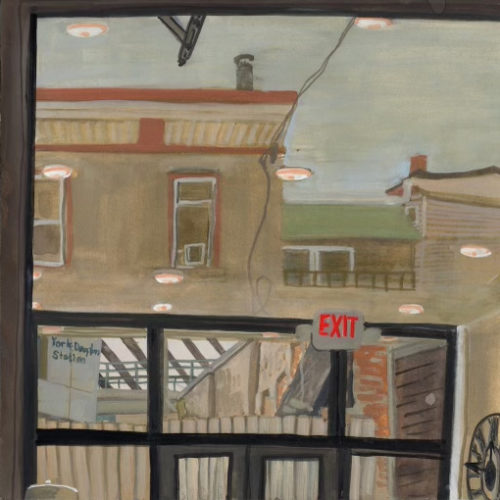 Opening reception Friday, 1 April from 6-9pm
Live Performance Friday, 6 May 7pm
Marginal Utility is proud to present Overhead, an exhibition of recent work by Philadelphia based artist Sophie C. White.
By making paintings of places on the verge of becoming unrecognizable, Sophie C. White is able to spend time with and mourn changing neighborhoods in Philadelphia as she once knew them, while also anticipating what is to come.
Having grown up in Lower Manhattan at the turn of the Millennium, Sophie learned to paint while experiencing similar feelings of alienation from her surroundings that are continually going through aggressive phases of rapid development and gentrification.
Each painting is made at the exact location and time that is depicted and is an artifact of that moment. Painting images by hand with only natural vision as a guide allows Sophie to decide exactly what information needs to be included and allows the particularities of her senses and movements to determine the formal characteristics of the depicted site.
-Masks are requested to be worn properly at all times while inside of the 319 North 11th st. building.