1 – 17 October 2021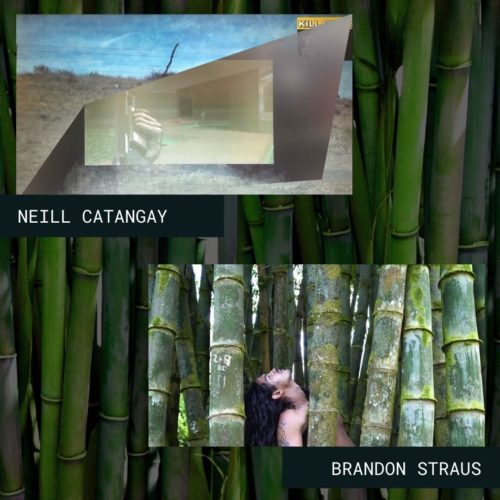 Opening reception 6:00-9:00pm Friday October 1st
Marginal Utility is proud to present an exhibition of recent work by Philadelphia based artists Neill Catangy and Brandon Straus.
Brandon Straus and Neill Catangy both share a second generation Filipino identity and create works that explore material culture and tradition. Overlapping themes of violence and belonging inform both of their projects. Catangy and Straus have collaborated for this exhibition with elements produced during their 319 2F artist residencies.
For his residency at Marginal Utility Brandon Straus created a multichannel video installation: Coconut Palace and a Bamboo Mansion. It is the result of long distance research and free association about the Philippines' visual culture from his Filipino-American second generation perspective. The videos explore cultural performativity, economy, and ecosystems within Philadelphia and Hawaii. Store bought coconuts and invasive bamboo in Philadelphia alongside Hawaiian bamboo groves and coconut trees highlight the connection between immigration, international commerce and American Imperialism.
During his residency at Marginal Utility, Neill Catangay utilized the gallery space to experiment with creating video narratives on dwelling in his thoughts during isolation. From this creative wandering, he has begun analyzing teachings from his youth and interpreting the effect they have had on his identity as a Filipino American raised on Guam. More specifically in this work, Catangay draws on his first memories of interactions with guns – remembering them as toys, then video games, and finally learning how to fire a real gun for the first time. Baril. Lalaki. Buhay. Kamatayan. questions a naïve understanding of a highly influential and violent foundation. The installation incorporates sculpture, ready-made objects, video and spoken word to analyze and question the relationship between guns, violence, and performative masculinity in popular culture as well as how these relationships reflect the ways in which colonialism and imperialism is taught and perceived. The video collages clips of war-themed video games, footage of animals being shot, and the audio of Catangay's voice speaking in his native Filipino language – Tagalog. As an adult, Catangay is verbally using his novice understanding of the Filipino language to mentally investigate how these ideas about guns, masculinity and power are constructed in naïve stages of life. Just as a child can hold a gun but not truly understand it; the artist records himself learning to speak his native language as an adult; like an infant learning for the first time unable to fully grasp its meaning.
Neill Catangay (he/him) (b. 1993) is a Filipino American interdisciplinary artist born and raised
on Guam. He currently lives and works in Philadelphia, PA. Catangay received his BA at the
University of Guam and his MFA at the Pennsylvania Academy of the Fine Arts.
Brandon Straus is an interdisciplinary artist living in Philadelphia. His work reflects his belonging to the LGBTQ and Filipino diaspora communities. He works as a videographer and editor
– 20 visitors maximum will be admitted into the building at a time for the opening reception and gallery hours.
– Masks are required to be worn properly at all times while inside of the 319 North 11th st. building.
– There will be no consumption of food or beverages in the galleries and hallways