2 February – 18 March 2018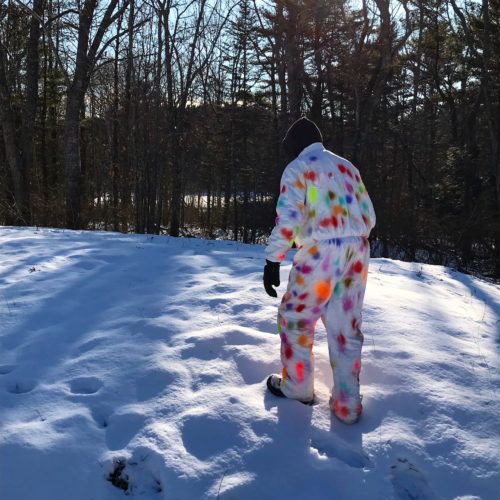 Opening reception Friday, 2 February from 6 – 10 pm
Marginal Utility is proud to present Leaning Bypass #4 (Chromium),  a solo exhibition of recent work by the Maine based artist Robert Younger.
August 2012 I was staying in a house that had a number of very simple cabinets. They looked like the sort of do it your-self concepts found in an old copy of Popular Mechanics Magazine. Each had two sliding rectangular panels with a hole for your finger to push right or left (open/close). Very simple except that in this case the homeowner chose to paint each panel a different color (yellow ocher / raw sienna, cobalt blue / titanium white) forcing me the viewer to draw a comparison or think about the juxtaposition. I could also slide the panels revealing the interior space and change the scale relationship of one panel to the other.
Having thought about these panels I started doing drawings of colored rectangles arranged on the page each with a small circle drawn to represent the finger pull. Still interested I decided to fabricate my own panels but in doing so made a few decisions. I eliminated the cabinet (interior space) and focused on the panels. The wall of the cabinet became a frame just large enough to hold the panels. Instead of a double track I went with no track so that the panels were flush mounted and not capable of sliding. This was done to move away from a practical application and closer to an artistic concern with references.
Five years later I am making and arranging brightly colored rectangles that fall halfway between painting and sculpture. The color I use is almost always right out of the can. I arrive at what I need by moving and arranging the endless possibilities of pre-painted panels. They either mount directly to or lean and stack against the wall (BYPASS / LEANING BYPASS). My next project is a formal array of 10 wall-hung units approaching a much larger Leaning Bypass #4 (Chromium).
RY 1/11/18